Most people think of Togo as a way to have food ordered. But it's also a sliver of a country sandwiched between Ghana and Benin, a nation some may know for its gnarly ties to international – in particular French – money, arms and drugs scandals. The Gnassimbe dynasty has kept power within arms reach for decades, it is one of the finest examples of corruption in the world, the elite is particularly disinterested in the dire state of the country, which despite abundant mineral and agricultural wealth, is stuck in a rot. The rot is ibvous when entering from Ghana: one side of the border has buildings with rooms and computers. The other side has a shack with officers holding LED flashlights to fill in the paperwork. Sorry, photos of that were not so welcome.
The poor leadership and lack of development in the country are reflected by its extremely poor cultural reach. If anyone reading this can name ONE single Togolese musician, or even any kind of artist based in Togo, we'll give you some free music!! More than in any country we've visited, there are hardly any structures to decently record and produce music, there is very limited access to foreign culture, besides the usual top 40 + garbage 40 (Celine Dion….).
BUT…. culture is very much alive. Hip hop took the country by storm since the mid 1980s, although it took over a decade for it to finally be accepted on the radio. Today hip hop is the dominant style for the Togolese youth, who sing in French, but mostly in Ewe and other regional Togolese languages. The hip hop is mostly influenced by what kids hear on the radio, which is – unfortunately – quite limited. 50 Cent, Akon, Tupac, and some French cats as well. We don't want to hate on these major artists (actually we do, but we shouldn't), but we believe there should be room for more. And finally now that internet access is trickling in, kids have some broader access to foreign music and culture.
As a result a new generation of artists is experimenting with the music. We were fortunate to meet with acts such as Dodji (photo of guy with guitar below) and Elinam (full band photo below), who blend a lot of foreign influences with elements of traditional folklore, in particular Ewe and coastal drumming techniques, which are impressively elaborate. We hope to work with such artists so stay tuned…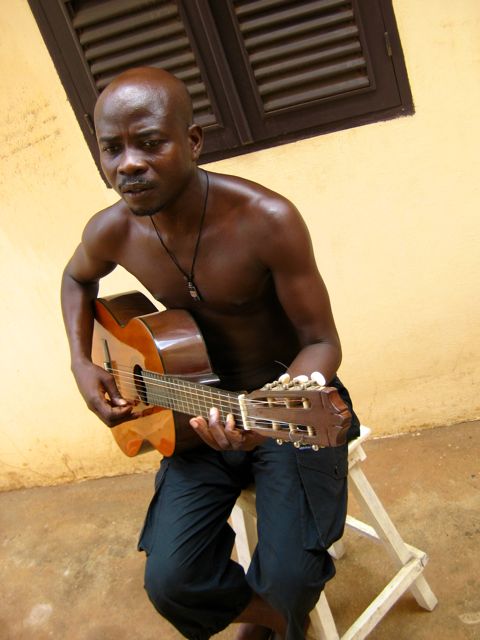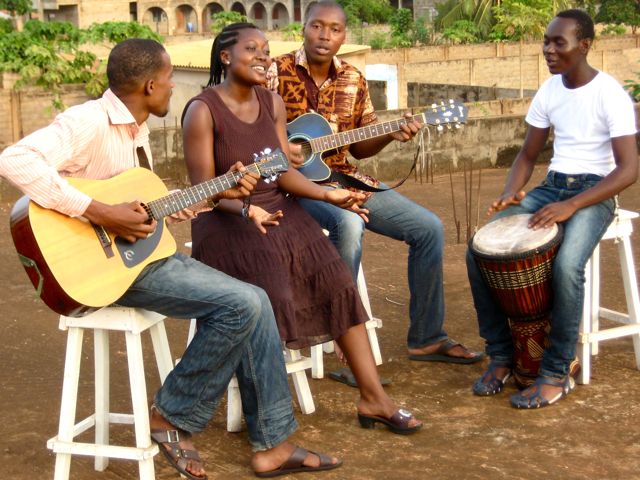 We should also note last Tuesday April 27 marked Togo's 50th independence anniversary, hence the fireworks: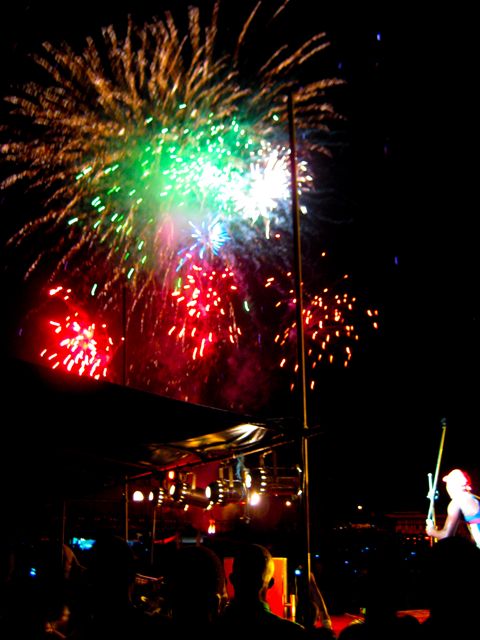 And we couldn't resist but share some of the visuals…. hairdressers do it best over here: