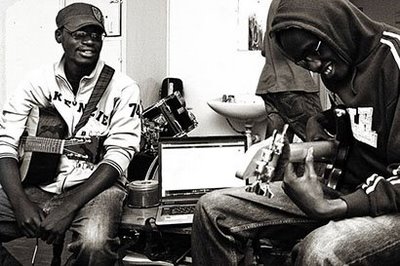 Have you heard of Africa Unsigned? Since you're here on our site then you'll probably really dig what they are up to: Africa Unsigned has been identifying up and coming artists throughout Africa, and funding recordings with the help of fans all over the world. Among others, Africa Unsigned worked with Just A Band shortly after they completed their album 82, to help them put together a decent live show, as well as a better studio for their next recording.
Check out how the whole thing works here. But in a nutshell: you contribute any dollar amount, and when the band reaches the target – $10,000 – it is ready to cash in the dough and record songs. And you are oh-so-special my dear Akwaaba fan: Africa Unsigned is letting you register and contribute $5 for free, simply go and register here and use the code 'akwaaba'. Just by registering you will automatically be contributing $5, which we encourage you to contribute to Just A Band's page ;-p And of course we all hope you feel compelled to contribute some more!
While we're at it, here's a bit of behind the scenes action on Just A Band's shoot for Ha-He – courtesy of Africa Unsigned.