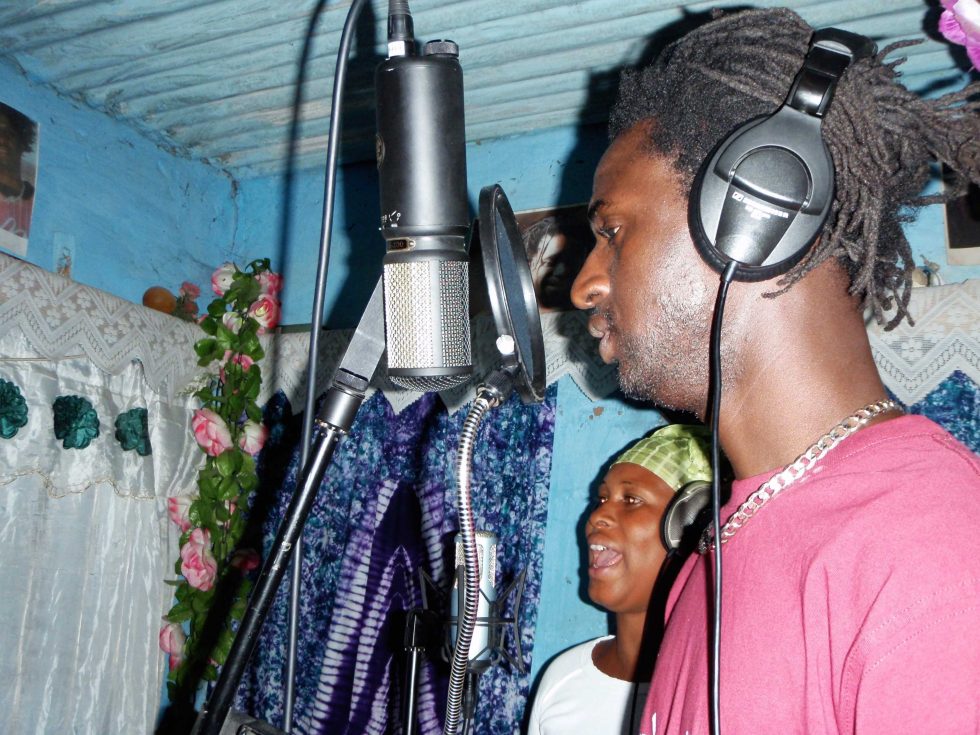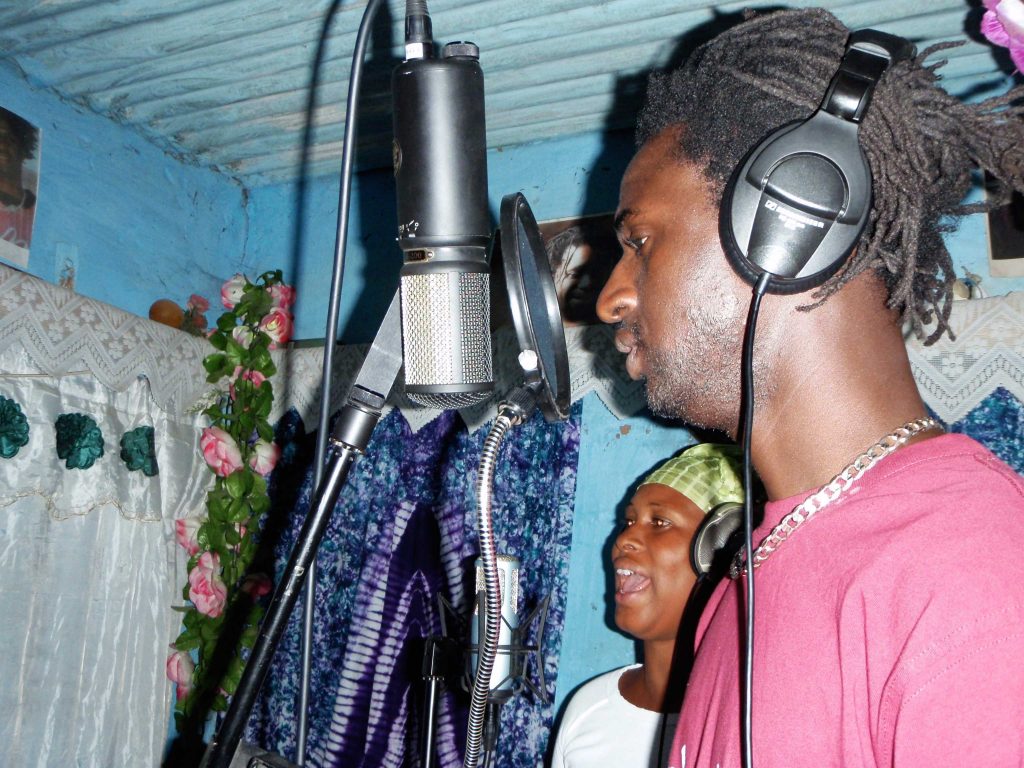 Jali on the mic..
A nice update from our good friend Steve Pile, the musician who made Jali's album come to life. Steve is headed back to Konteh Kunda music school in Brikama, Gambia. He is bringing some gear with him to setup a functional recording studio there. Please read through to get the full scoop – especially if you have some old gear sitting around!! The story goes something like this: a few years ago Steve came to Gambia to learn the kora, an instrument he discovered by chance at a concert in London. He found his way to Dembo Konteh's music school, and became his son Jali's first kora student. Steve and Jali quickly bonded around their love for music, and the strong sense of community at the Konteh family compound. Since then Steve has made it his mission to give back to this musical family. First in 2008 by helping them raise enough money to install solar power. Then by recording Jali's full length debut Konteh Kunda. Now Steve is goingback in March, here are his words about the next stages:
"I am returning in March 2011 with grand schemes. In the family compound, there is a half finished structure, long abandoned due to lack of funding. On my last trip, I suggested to Jali that the space would be a great music school. He agreed. After the success of a fundraiser to bring solar power to Jali's compound in 2008, I knew we had the community support to turn this space into a proper music school.
The benefits of having a designated music school in the compound are many:
Economic: Tourism makes up 18% of Gambia's GDP, but it is primarily based on the coast. Resorts are often owned by foreigners as well. This type of "musical tourism" brings people off the beaten path to villages and towns like Brikama, that don't usually see those tourist dollars. Money is exchanged directly with your hosts and goes straight into the local economy.
Cultural Preservation: the preservation of culture is encouraged by the influx of travelers eager to learn traditional Mandinka music and art forms.
A Better Learning Experience: Though Jali is happy to give up his bed, it is inconvenient for him (he is a new father) and students often opt for staying in a hotel nearby, for their own comfort. Staying on the compound is a very enriching experience and a separate building would be mutually beneficial for both student and teacher.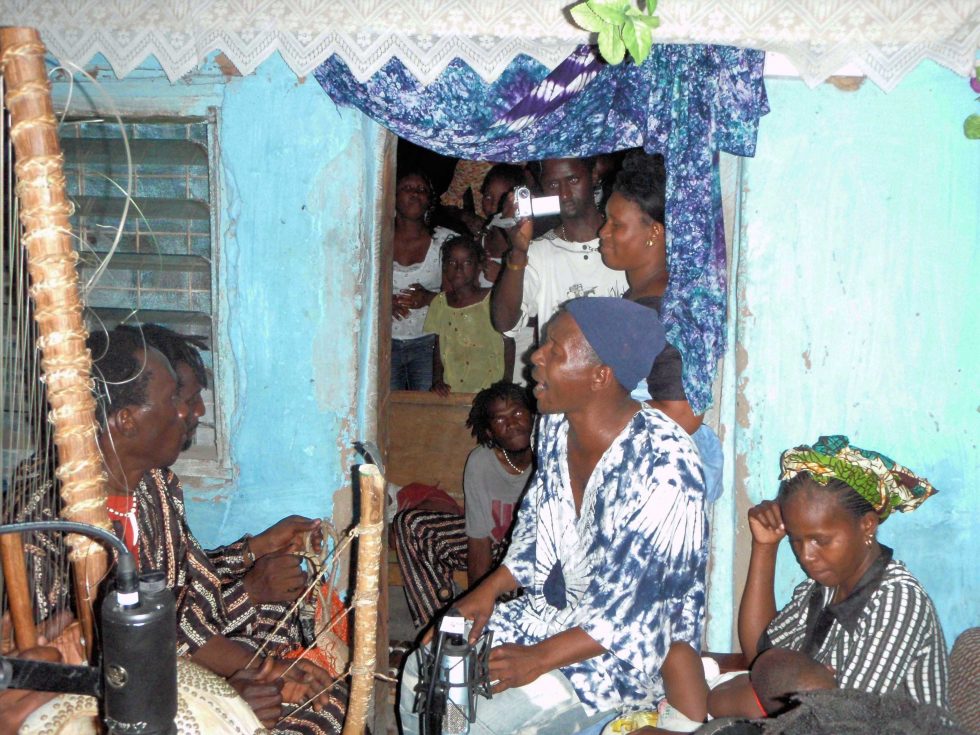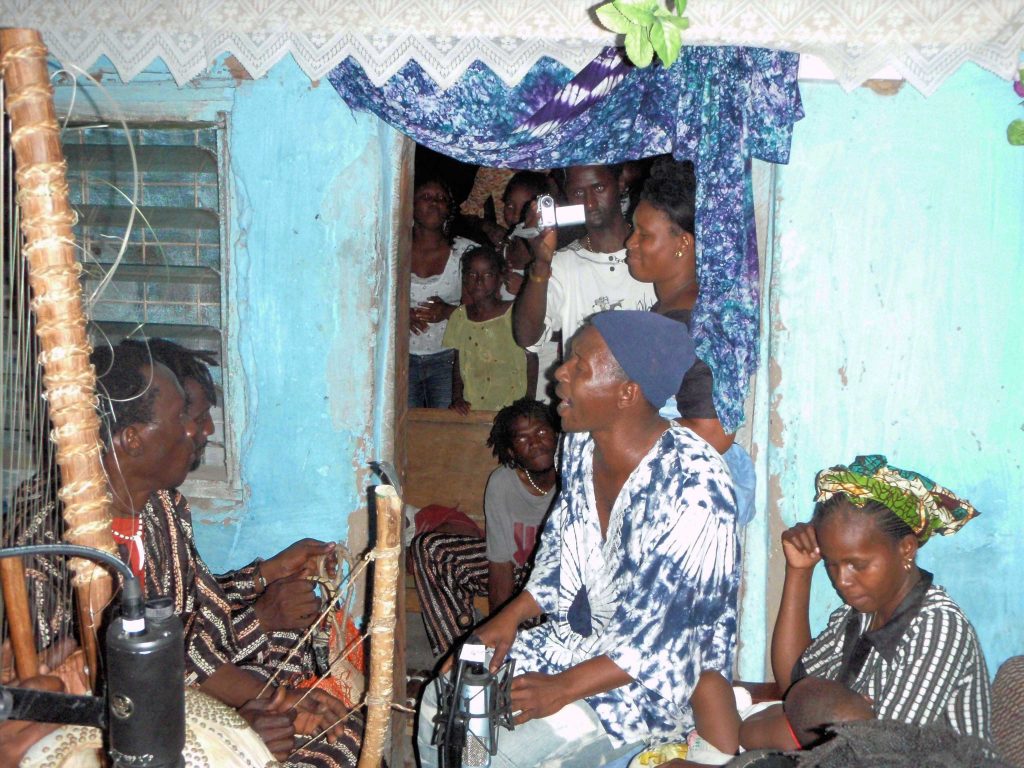 The purpose of the March 2011 trip is to set the groundwork for the building of the school and film a documentary on Jali Bakary and the Gambian music scene. Joining me will be film-maker Jesse Wippert. Of course, we will be recording as much music as possible while we are there.
We are currently trying to raise money to cover the cost of this trip, including bringing more solar panels to Jali's household to increase the power of the existing system.
The Studio
We are also asking for donations of another sort: Recording gear. There are only a smattering of recording facilities in Gambia. Part of the future plan of the school is that it will function as a working studio. We'd like to get it started now.
What we're looking for:
A Digital 8 track multi-Tracker….(Fostex, Roland, Tascam, Zoom, etc. Perhaps someone has one sitting around…Something Easy to use and intuitive)
-transferring wav. files to a CD or DVD with ease would be a plus, as likely they'll be sending songs this way for mixing and mastering.
OR Alternatively:
An old Mac laptop and Logic. (this way I could teach them how to  use it)
But, a PC laptop and Cubase or anything else would be fine. (I'm sure I can figure it out!)
I am happy to donate my pre-sonus Firebox, but if anyone has something better sitting around…
-Mic cables- any and all
– mics – multi purpose mics, 57s, a condenser of some sort would be great.
– headphones
Please contact Steve or Benjamin if you have anything that fits these descriptions.