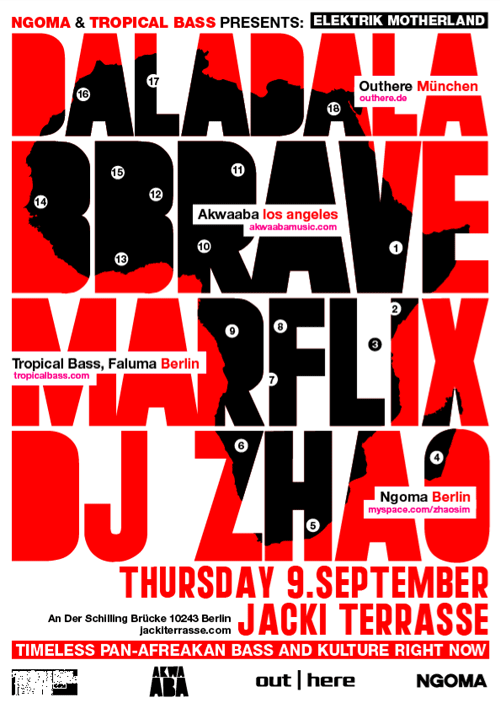 It's that time of year… we're headed back to ye olde world to rock a bunch of tropical partaaaaays. Starting in Berlin during Berlin Music Week, which we will also attend – more on that in a bit. We are reconnecting with some key players in Germany and Berlin's tropical scene:
DalaDala Soundz (Out Here, München)
Dala Dala is giving you a 21st century Afro bass reality check. Songs on heavy rotation from the township minibuses in Soweto to the dala dala minibuses in Dar es Salaam, select tunes from the danfo drivers of Lagos biggest ghetto Ajegunle or the car rapides of Dakar: street music from the hot urban music scenes of Africa. It just had to be a matter of time that an international audience got infected with the virus of the latest African club trends. Dala Dala gives an overview over the wealth and variety of urban sounds from the african continent.

Marflix (Tropical Bass, Faluma)
Berlin-based DJ/producer Marflix searching for the perfect beat since the early 90s. Focused on Caribbean music flavored with Bass and Club. Current selection varies from Soca & Caribbean to African club music like Kuduro, Coupé Décalé, Funana to European club music. Marflix also runs his own label Faluma which is specialized on Soca & Caribbean music. Musical background in Punk and HipHop.

DJ Zhao brings contemporary and classic dance music together from all five continents, with focus on Africa. While his DJ sets reach from culture centers to remote areas of the globe, and from today back through the ages, DJ Zhao's remix and mashup work directly connects "East" and "West", acoustic and electronic, traditional and hyper-modern. Equal parts ethno-musicologist and booty shaker, Zhao is a transnational ambassador of boom not only talking about, but demonstrating through unforgettable raw sound experience, the underlying unity of all earth rhythms.