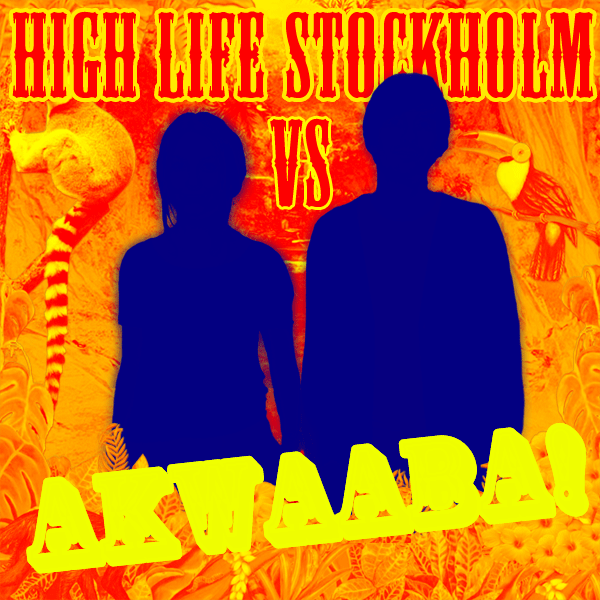 Another fine mashup of some of our recent titles… this time coming from our good friends Anna and Sebastian of Highlife Stockholm! Scroll down for full tracklist.
What's the story behind High Life?
High Life is Stockholm's most tropical club night and dj-team. Since two years we bring together everything from good time party music such as Highlife, Soukous or Champeta to dancefloor smashers from all continents: Kwaito house, Coupé Decalé, Kuduro and Digital Cumbia to just name a few.
The Highlife of the 60's was one of the first – or maybe even THE first – hybrid music style that integrated both western and traditional elements. You can say that it represents a somewhat prototype for the music we play, therefore the name.
How did you first get into tropical beats?
We have both been djing for a long time and are always looking for fresh and exiting stuff. At one point we came across a mixtape with picked highlife-guitars and repetitive soukous-rhythms that made us curious. To find out that these styles even had made their way into today's samplers and drum machines and were combined with Techno and
House got us even more exited.
Why don't you tell everyone how you hooked up with us at Akwaaba?
We hooked up with Akwaaba almost a year ago when we had the honor to host DJ BBRAVE for an eclectic dj-set full of African pop pearls. Tunes from Akwaaba acts as Kedjevara, Killamu or Skeat are floorfillers at High Life nights since then and make the swedish palms shake.
What are your personal favorites / highlights in the mix?
We put together a couple of our Akwaaba favourites (for more favs check our other mixes and some tunes that are hot at High Life right now. It's hard to point out particular songs but we really dig the cora-tunes of Jali Bakary Konteh and Issa Bagayogo as well as Skeats botswana house. In Europe, Debruit impresses us most at the moment with his wonky take on Highlife.
Tracklist:
1. Combination (Swedish Palms Re-edit) – Jali Bakary Konteh
2. Filaw (Chief Boima Remix) – Issa Bagayogo
3. Nigeria What? – dÉbruit
4. Som do Zoca – Zoca Zoca
5. Tchoukou Tchoukou – Kedjevara
6. Django – DJ Bonano
7. Messe Messe – Gregor Salto & Mokoomba
8. Mamela – Skeat
9. Ya Yo Se –  Chico Mann
10. Uko Mbele – Just a Band