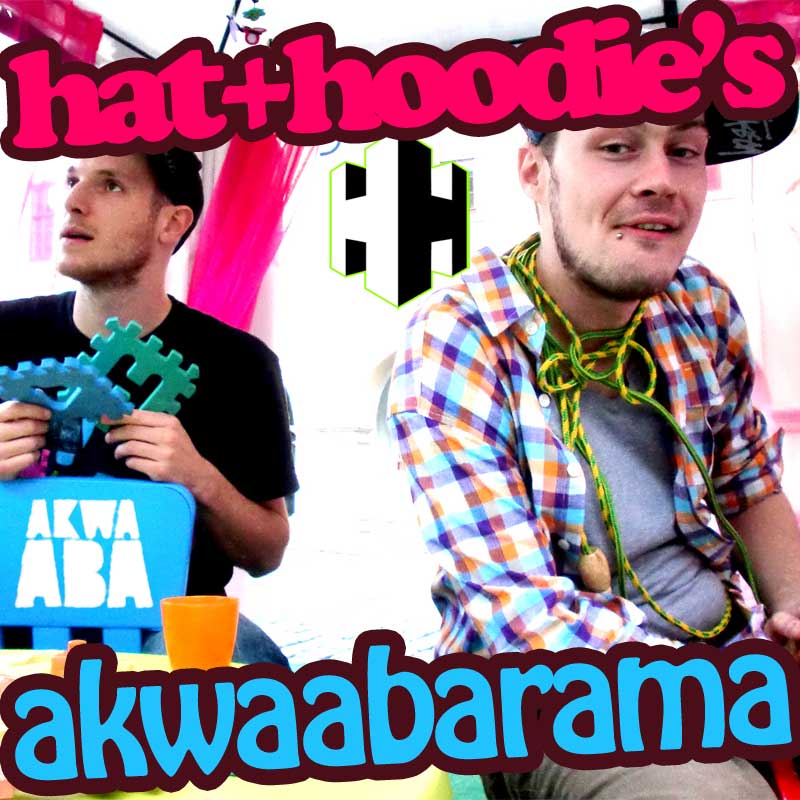 Our German sucks, but we still love to *read* Hat + Hoodie's posts – or should we say, look at the odd series of letters and wonder what they are saying. Thankfully, once they get behind the decks the language is universal, and this last mixtape of is sure to move any dancefloor from Cape Town to Hamburg, Dakar to Beijing. Here's what the doods have to say:
How long have you been DJing?
Both of us have been DJing for a long time, together it's over 20 years. We dug many different styles ever since and got to know lots of great music, which maybe is why we still like our sets rather diverse. Being friends for a long time, we finally teamed up in 2009 and started hat+hoodie.
How long have you been into tropical / African beats?
We both were into Reggae, Dancehall, Ska and Afrobeat at some point, which probably built the foundation for us. In the last few years we became more and more involved in electronic dance music, but always felt it lacked the rough and direct energy of a Dancehall party. Playing so-called "World Music" never was an option, as it was considered Hippie-Music and absolutely not club-compatible in Germany. So you had to listen to it secretly, ha ha. That was, until 2008 Radioclit and Buraka Som Sistema hit the clubs. Hearing "Secousse" for the first time was a true key moment – We instantly got hooked on Tropical Bass and World Electronics.
Its an eclectic mix… What's the story behind it? What are some of your current favorites?
We tried to put everything in there that we like right now, so there's Tropical House, some UK Funky, African Beats, Barefoot, Dancehall… We like it wildstyle, a whole night of Tech House gets us bored. Then we wanted to feature some of the great artists we met on the internet recently, such as BukBuka from Istanbul or Sabbo from Tel Aviv. We really love cruising the Web for new artists and connecting with them. We also wanted to represent the German/Austrian scene, so there's the very awesome Schlachthofbronx from Munich, So Shifty from Hamburg, and of course Vienna's Ku Bo and Beware & Motorpitch.
We like messing around with music rather than only playing it out, so we mashed some of the tracks, re-arranged them, combined them… What came out is pretty much what we consider a good party: global dancehall music, lots of bass and a touch of anarchy, hehe.
Playlist:
Skeat – Relela [Akwaaba]
Skeat – Mama Le Papa [Akwaaba] x Douster – Alleluja [Bebup]
Killamu – Melodia de Semba [Akwaaba] x Mujava – Mugwanti/ Sgwejegweje [Out Here]
Poirier – Militaris Riddim [Ninja Tune] x So Shifty – Clap (Acapella) [Top Billin]
Fauna – Gauchito Gil (Douster Remix) [ZZK]
Skeat – Phamphanyane (hat+hoodie Edit) [Akwaaba/Bootleg]
Hat+Hoodie – o!e [Faluma Africa]
Roska – Squark (hat+hoodie Edit) [Rinse/Bootleg]
Schlachthofbronx – Vem Que Tem (Beware & Motorpitch Remix) [Man Rec.]
Sekta – Peterpan (Doc Daneeka Remix) [Top Billin]
Beware & Motorpitch – Pororoca [Man Rec.]
Manare – Pirog [Younggunz]
Old Money – Mamaseh (Sabbo Remix) [Unreleased]
Jali Bakary Konteh – Combination (hat+hoodie Remix) [Unreleased]
Chief Boima – Techno Rumba (Uproot Andy Remix) [Dutty Artz]
Legobeat – Gun, Whistle, Bird (Cocotaxi Remix) [PBP]
We Are Enfant Terrible – Wildchild (Myd Remix) [Web]
Jamtech Foundation – Run The Track [Mad Viking]
Lady Chann – Sticky Situation (Toddla T Remix Intro) [rcrdlbl]
Bert On Beats – Suomo (Ku Bo Remix) [Man Rec.]
BukBuka – Capoeiristas (Jump da f@#$ up) [Unreleased]
Schlachthofbronx – Ayoba (Ku Bo Remix) [Man Rec.]
Figura – Ze Bula (Peter Pozorek Remix Intro) [Unreleased]
Figura – Ze Bula (Sabbo Remix) [Akwaaba]