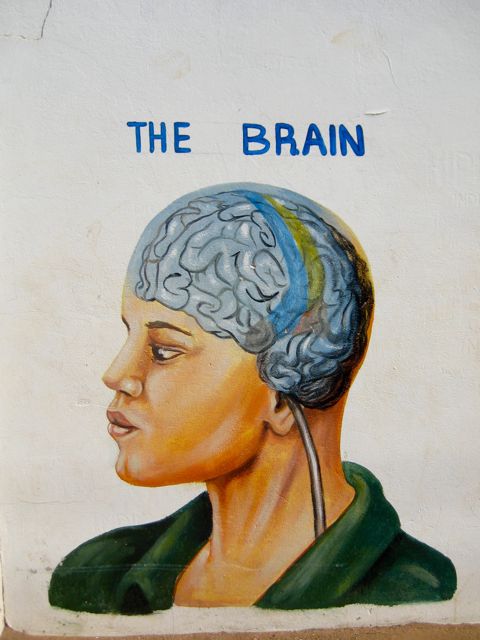 We were lucky… LA to Accra via Amsterdam was relatively smooth… No one got stranded in post-volcano Europe, we narrowly escaped the air travel chaos and arrived safely in Ghana.
We are staying with Panji of Pidgen Music. Not a bad place to be: both Panji and Wanlov (the Kubolor!) have been welcoming despite their hectic schedule. They've got a movie coming up, Coz Ov Moni, which we hope – for your sake – gets released everywhere soon. The movie is funny as hell, although we probably missed some of the jokes in pidgen – still working on it!! Ghanaian premiere is at the National Theater in Accra on May 15.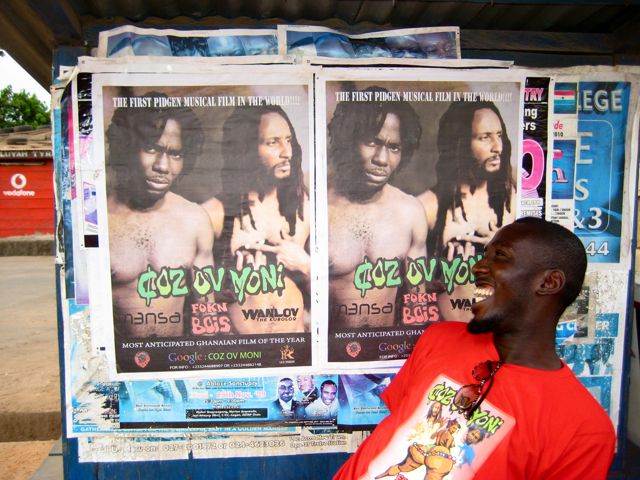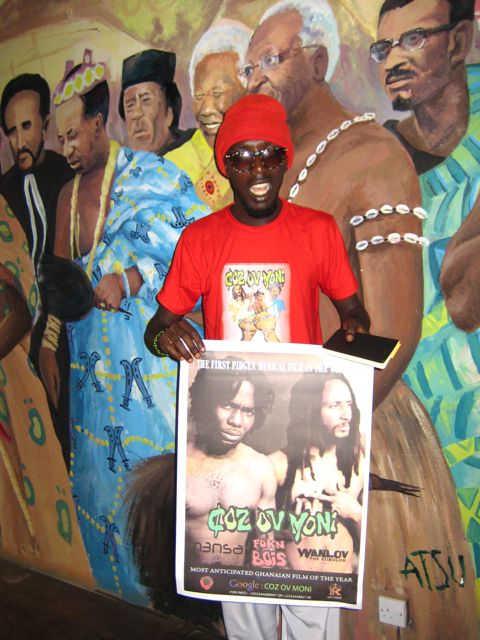 The funny lookin' cat in the picture is one of our new homies Ananse (Spider) aka Old Dad aka our GREAT friend nana's COUSIN!!!!! The world is a crazy place: our very first day in Accra we stumble up;on Ananse at Panji's house, who eventually tells us about his cousin Nana who lives in LA, more specifically in Venice Beach… and more specifically is THE firecracker party starter at our local LA gigs!!!
So we're in good hands… Ananse is hilarious, a model and comedian, we'll try to upload some videos of him dancing as soon as we can, they are well worth watching.
Back to music… we also went to Dansoman to meet up with Appietus, probably the most well knowned hiplife beat maker in town, it seems everybody's worked with him: Samini, KK Fosu, Kofi B, Kwabena-Kwabena, Mframa, Tinny, Wutah… So Appietus played us his latest compilation, a sick SICK collection of Ghana's finest hiplife singers. The early morning soundtrack as we write this post!
Appietus was pretty skeptical when we first met (how can a white man call a company Akwaaba?!?!), but after a few minutes of parlaying, he started to mellow out a bit. Not the first time we get this type of initial reaction: the history of white men abusing Africa and its culture is centuries long, so it's not surprising that honesty and goodwill sometimes take a minute to sink in… Anyway the bottom line for Appietus, as for most musicians and producers here in Ghana, is MONI. So if we can help him make some without taking full advantage of him, why not… We're meeting him again today to further discuss, and interview him.
More soon…