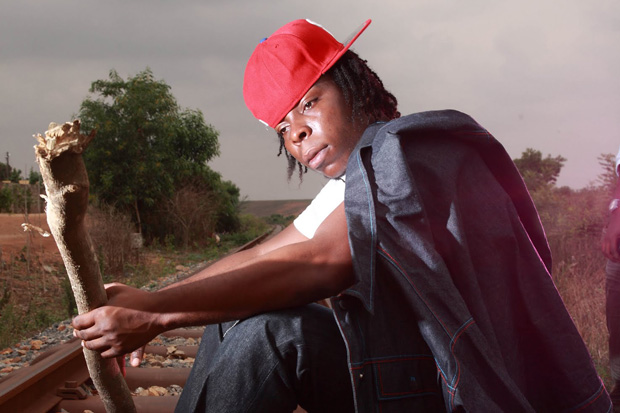 It's hard enough to make it big in places where everybody speaks the same language, so just picture trying to break though in a country where your language is only spoken by a minority of the people. In Ghana, that doesn't prevent plenty of artists from singing or rapping in Ga, Hausa, or in this case, Ewe.
Super quick recap: Ghana, like most African nations, has arbitrary borders that have little to do with the geographic or ethnic layout of the land. It's home to many ethnic groups and languages, too many to mention here, but a lot of people speak an Akan language. Even in Accra, home to the Ga people, you hear a lot of twi, the most common form of the Akan language.
So how do you do it if you want to make music in Ewe? Well, as it turns out, the same way you do if you rap in plain English and you're from, say, the Bronx. You get the community behind you before you even attempt to grow beyond its borders. It's about having your people behind you.
Introducing
Edem
, formerly known as Ayigbe Edem, with "ayigbe" being a fairly derogatory word for Ewe in twi. Edem's first album was all hip-hop sung in Ewe. His first objective was to gather support from his people. As he tells me: "With my first album, I wanted to make sure I would have a set of people who believed in something, I needed to have a core following. Always, with hip-hop, you have people standing for the east, west, south, etc. This following gives you energy, it spreads. 50 Cent might be from Queens, but the buzz in Queens was so strong it spread. Same thing with Jay-Z from Marcy. So I decided to stand for the
Volta region
. Once that was done, it was time to open up the market."
Edem succeeded at becoming the go-to musical ambassador for the Ewe people. This success landed him a sponsorship deal with marketing-heavy Nigerian telecom carrier Glo, which means you can see Edem's face on billboards all over the Volta region.
And just like some of the American rap heavyweights Edem mentioned to me, his buzz spread beyond his area. After becoming unavoidable for the Ewe people, Edem is ready to take over Ghana and Africa. His latest single is called "Over Again," and although it still has a few verses in Ewe, it is mostly pidgin English, making it accessible to most Ghanaians, and even Anglophones worldwide."Music is not about the dialect, but about the talent, so I am moving to show my skills: reggae, patois, pidgin, fused with English and Ewe." Edem is embracing a wider range of sounds, with a new album much broader than hip-hop alone. Another single is "
Ghetto Arise
," a reggae song playing on
Trace TV
and
Channel O
across Africa. "Ghetto Arise," like "Over Again," carries a message, as do most of Edem's songs. Not one to simply get people to dance, he chooses to use music to educate and further his contribution as an artist. "I am a hip-hop artist, and people have a hard time seeing my evolution, so I am going gradually."
I find it incredibly inspiring that Edem is able to root his music in a specific cultural terroir, and still reach the entire continent. Versatile, he embraces a broad set of cultural and musical influences, while staying true to his origins. It's not just having his videos played on continent-wide networks: he is also set to tour Africa with Togo's number one group, Toofan. A very exciting example of a successful collaboration reaching across national borders. Enyo!