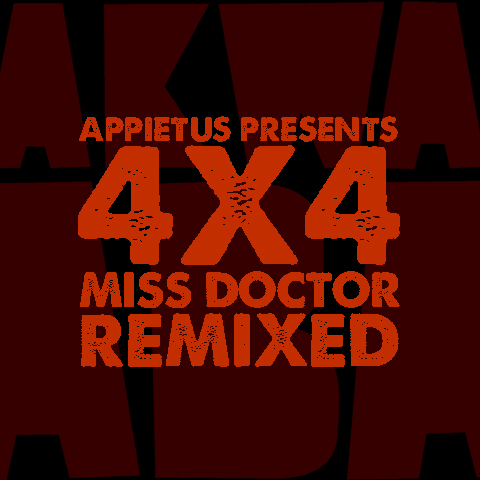 Miss Doctor was one of the biggest hits this year in Ghana. Appietus' tight production has been booming throughout the entire country since last spring, so six months later it's a special treat to see the vocals land in the hands of an army of young producers throughout the globe. On this EP we present some of our favorite submissions to the Miss Doctor remix contest. As usual choices were difficult and most likely quite imperfect. But we hope this small sample helps to propel 4X4 into new club stratospheres, and helps to turn new heads onto Ghanaian beats. A quick round up of the lucky few featured here:
Dance Kill Move – Sweden/Colombia: we instantly loved this cumbia/reggaeton/dancehall rework by this young Swedish duo. Funny how it came about: last summer Ricardo – the beatmaker in this duo – spent a few weeks in Colombia, where his family is from, soaking up the cumbia, vallenato, porros, champeta and reggaeton. Then upon his return, stumbled upon the remix contest. Luckily for us, his summertime love affair brought Miss Doctor that much closer to the Colombian coast. Escucha fuerte!
Sabbo – Israel: This is not the first time we dig Sabbo's remix, and certainly not the last! What can we say, we just love how he turns songs into dancehall/kuduro-tinted club bangers. Sabbo's sound is well established with all tropical / global bass bloggers and DJs. The cool thing here is, he was already playing the original Miss Doctor in his sets, so when he heard about the contest, he knew he had to remix it!
Paul Marmota – Chile/Mexico: Paul is a native of Santiago de Chile, where he started producing and getting involved with the local music scene. But in a quest to broaden his horizon, he relocated to booming Mexico City, where he has been working alongside artists such as Zombie Discos Squad, Erick Rincón or Waya Waya. His remix is a good example of his heavily percussive sound, which we feel matches well with 4X4's fast delivery.
artfx! – Germany: another returning favorite, this Berliner is deep-rooted in the German dancehall scene. Over the past 12 years, he has built a name for himself releasing dub plates as part of the Bandulero Sound! collective, Yet his musical horizons are far broader, as demonstrated in his clubby take on Miss Doctor.