Appietus – The Revolution


You could probably say that at any given time, you can hear one of Appietus' songs on Ghanaian airwaves. His output is beyond abundant. For well over a decade now, Appietus has steadily composed beats for nearly all top Ghanaian hiplife and contemporary highlife artists, as well as myriads of up and coming stars from all parts of Ghana.
The main reasons for his success are, first, his insatiable talent for creating new highlife-tinted arrangements, which appeal to both kids on the dancefloor, and their nostalgic parents. But it's also because Appietus pays very close attention to the overall sound quality of his tracks, which is evident on The Revolution, his second compilation album, a strong testimony to his eclectic beat-making skills, and his impeccable bass-heavy sound design.
On The Revolution, Appietus teams up with some of the biggest names in the game, such as 4X4 on the enormous hit Miss Doctor, but also Samini, Kwabena Kwabena, Tinny, Kofi B, D-Flex, KK Fosu, Castro and Wutah, as well as strong newcomers such as Mframa, Old Sodja or Mike.
Appietus clearly demonstrates he can hold his own in the highlife world, while he also clearly knows how to create futuristic GH bangers sure to ignite dancefloors far beyond Ghana's borders.
Appietus – The Revolution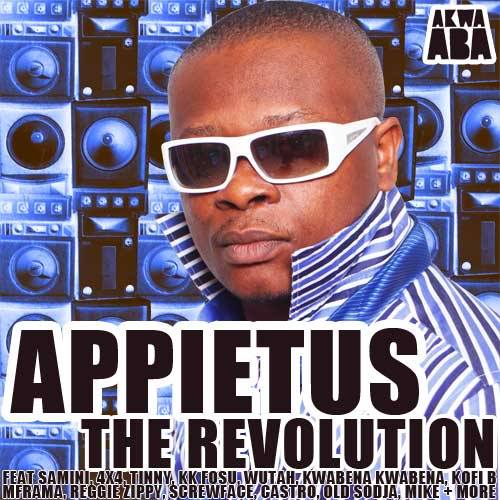 4×4 was founded in 2002 after a successful collaboration with hiplife titans
Buk Bak
. Since then 4X4 have dominated much of the hiplife game, with a string of hits and four highly successful albums.
In 2012, 4×4 truly went international when they joined hands with 8 other African acts including Fally Ipupa and 2Face Idibia to form the ONE8 Supergroup, which recorded the global hit single Hands across the World with international R&B superstar R Kelly.
Their latest album, Waist & Power, contains 3 of the biggest Ghanaian hits of 2011: the title song Waist & Power, Yesi Yesii and more recently Womanizer. The album displays each member's specific style: Captain Planet raps in four different Ghanaian languages, CoDed adds his ragga/dancehall flavor, and Fresh Prince sings the R&B hooks. Powered by beats by Ghana's finest engineers, in particular Appietus on the 3 hits mentioned above, the album also features production by Kaywa, JQ, BBryte and Playboi.