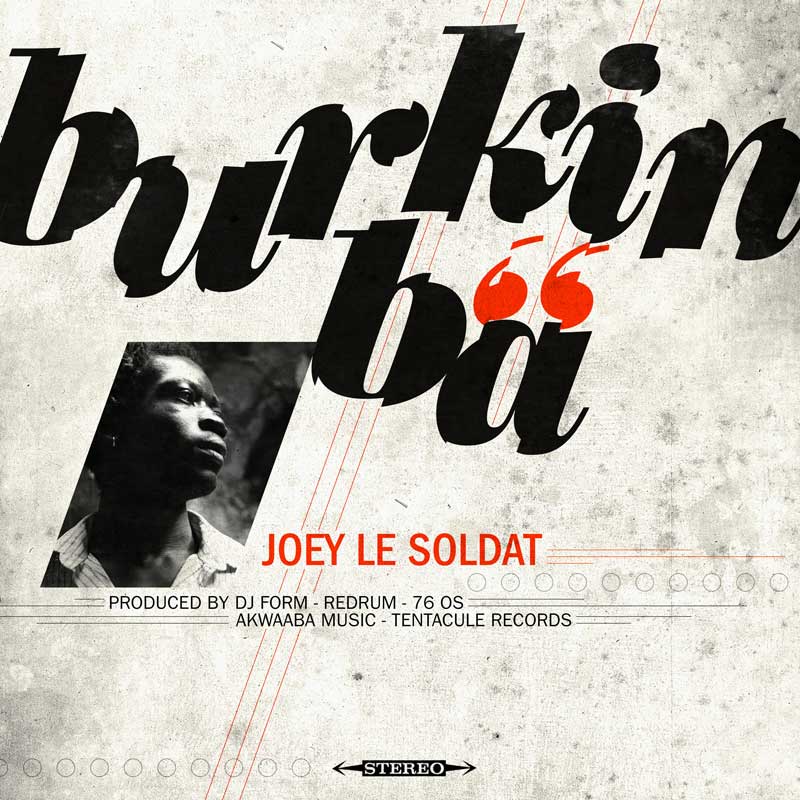 After Waga 3000 and Wogdog Blues, we are partnering with Tentacule Records to present Burkinabé rapper Joey Le Soldat's sophomore album, Burkin Bâ, a hip hop album tinted with electro and ragga, produced by French beatmakers Redrum, DJ Form, 76'os and mastered in Los Angeles by Dave Cooley, the engineer behind the famed Stones Throw sound (Madlib, MF Doom, J Dilla, Dam Funk…).
« They told me Soldat, you want to become a star ? – Then you have to rap in French or English – I should forget where I'm from ?». Determined words by this former French literature student at the University of Ouagadougou, son of a Burkina Faso Independence fighter, and grandson of a Burkinabé tirailleur, proud of his language and culture.
In his lyrics, he talks straight about Africa's pillaged ressources, forced mariages, Ouagadougou's street kids, but he also praises the bountiful return of the rainy season. Themes he shares with featured artists Anny Kassy, Conakry's unique lyricist, Togolese Elom 20ce, and French MC and beatmaker Fils du Béton.
Joey Le Soldat is hip hop at his very core. For over a decade, he has been fine tuning his craft, first as a member of various rap groups in his teen years, then gravitating among Ouagadouhou's underground sound systems and freestyle sessions. In 2009 he wins the Waga Hip Hop Festival clash contest award. Impressive live, he has shared the stage with Gaël Faye, Casey or legendary New York group Das EFX, during his last French tour with Art Melody and their band Waga 3000. Burkin Bâ propels Joey Le Soldat among the African artists shaping the sound of tomorrow.
Past posts about Joey Le Soldat: