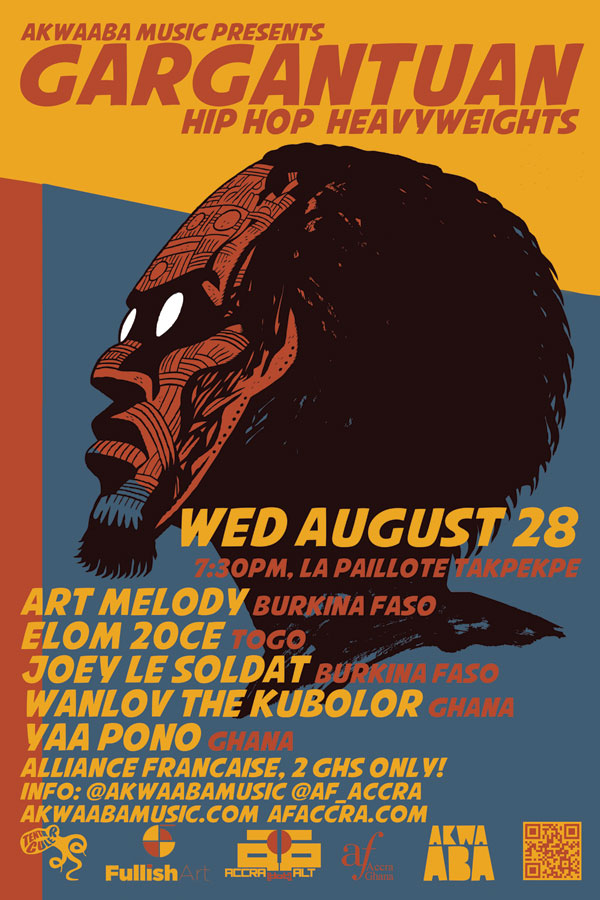 Akwaaba Music presents: Gargantuan – Hip Hop Heavyweights
Wednesday 28th August 2013 –  7.30pm, La Paillote Takpekpe at Alliance Française, Accra 
Gargantuan: of immense size, volume, or capacity. What better way to describe this stellar lineup of fearless MCs, who speak their minds with very little concern for what people consider appropriate.
Art Melody (Burkina Faso) is a veteran on Ouagadougou's hip hop circuit. His irreverence has mostly kept him away from airwaves at home, but it has helped him build an audience in France and across Europe, ever since his critically acclaimed second album Zound Zandé in 2011. In 2012 he teamed up with Joey le Soldat to form Waga 3000, a hint at Ouaga 2000, an absurdly posh neighborhood in Burkina Faso's capital. Melo and Joey have been touring Europe, but this is their very first show in Ghana.
Elom 20ce (Togo) is a highly engaged Togolese rapper. Like his Burkinabé counterparts, he has had more luck touring in Europe than at home in Lomé, where self censorship has kept his music mostly away from the airwaves. Nevertheless, Elom has built a following among emancipated Africans from Lomé to Paris. This is also his first show in Ghana.
Wanlov the Kubolor (Ghana) is another master of irreverence, on a mission to shake up mentalities anywhere he sets foot. Too often dismissed as eccentric by the mainstream Ghanaian media, Wanlov is a visionary who uses pidgin and humor to spread his message across the widest audience possible, at home in Ghana, as well as Europe where he was recently nominated artist of the year by Mondomix.
Yaa Pono (Ghana) is another veteran microphone slayer, one who started alongside the likes of Sarkodie in Tema over a decade ago. To this day, he is considered to be one of the finest twi lyricists in Ghana, one who also uses humor to sharpen his social critique.
In collaboration with Akwaaba Music, Accra dot Alt, Fullish Art and Tentacule Records.
Free songs:
Art Melody: Yamb Sabaab, Futur feat High Priest (Antipop Consortium)
Waga 3000: Dal Fo Yi Kin Dao
Videos:
Art Melody: Yamb Sabaab, Futur, Barka Barka
Waga 3000: Sak Sin Paode
Wanlov: Veverita feat. King Ayisoba, Human Being
Yaa Pono: Good Morning feat Efya, Tare Tare
Photos:
Press:
Art Melody: Fader, This Is Africa, Africa Is A Country
Waga 3000: Fader
Elom 20ce: This Is Africa
Tags: accra, alliance française, art melody, elom 20ce, joey le soldat, paillote takpekpe, waga 3000, wanlov the kubolor