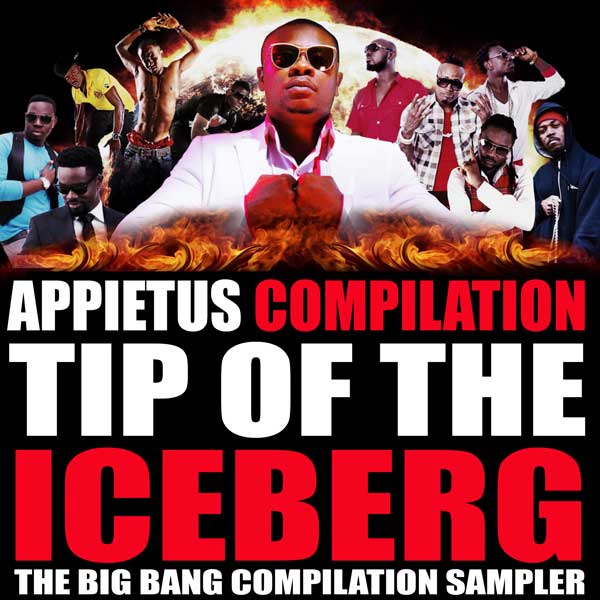 Appietus est actif, cela fait plus d'une décennie qu'il produit des hits à la chaîne : Azonto Fiesta en fin d'année dernière marque la dernière onde de choc musicale en date. Depuis, Appietus a été juré pour le programme TV Vodafone's Icons, ce qui ne l'a pas empêché de continuer son alchimie en studio, cet échantillon en témoigne bien.
Tip of the Iceberg est littéralement la partie émergée de l'iceberg, l'iceberg que représente la compilation d'Appietus à venir Big Bang compilation. Elle confirmera Appietus comme le producteur le plus influent du Ghana.
Tip of the Iceberg comprend 6 titres de pointures de la musique Ghanéenne. 5Five sont les protégés d'Appietus, une formation à hits à qui l'on doit par exemple " Move Back (Muje Baya)", un des titres qui a lancé la folie de l'Azonto. VIP incarnent le Hiplife. Ils se sont préparés il y a longtemps, et ont su rester pertinents toutes ces années. Samini est l'une des voix les plus adulées et reconnaissables au Ghana aujourd'hui. Il mêle dancehall et afropop dans des bangers à la beauté contagieuse. Stay Jay a émergé avec son hit underground "Shashee Wowo" qui s'est taillé une bonne place dans le mainstream, lui aussi au moment où l'Azonto a explosé. Kwaw Kesse, le MC comique Fanti, est un des rappeurs les plus aimés et loués du Ghana. 2ga est aussi un groupe reconnu en pleine ascension sous le patronage d'Appietus. Ils collaborent ici avec l'artiste numéro 1 au Ghana, le lyriciste et magicien du twi Sarkodie, à la création d'un des meilleurs titres "highlife" de ces dernières années.
Précédents posts sur Appietus: