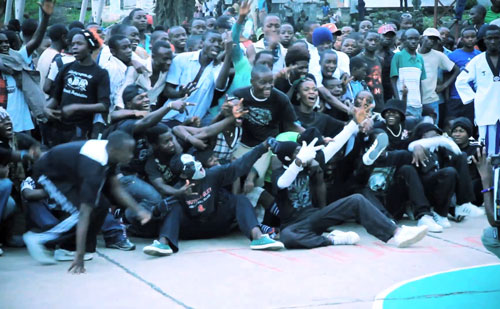 Interesting timing: although there hasn't been any mention of it on here, Benjamin Lebrave just got back from a wild journey in eastern Congo, starting off in Goma, where this VERY exciting video was shot. Goma has gone through hell for most of the last decade, but it is calmer now and the arts are flourishing again.
Music in Congo is something else. Often times music seems to be the only common ground for the Congolese: if you like rumba, if you dance rumba, well then you're Congolese. This phrase is not as benign or naive as you'd think. For instance, in Goma alone there are 4 shops MAKING guitars. Not to mention places where you can purchase imported guitars. And this is Goma, one of many mid-sized Congolese cities. As a point of reference, Accra, capital of Ghana, has – to our knowledge – not a single shop making guitars. Point being, music and live music play a fundamental role.
We'll share more about this exciting journey to the east, but for now this video can do the talking. Please do check out the full story over at africanhiphop.com and have a look at Yolé! Africa's site, they are the ones behind this project – which got the Economist's attention.
Tags: congo hip hop, congo music, congo video, goma, hip hop, kivu, salaam kivu, skiff, video, yole