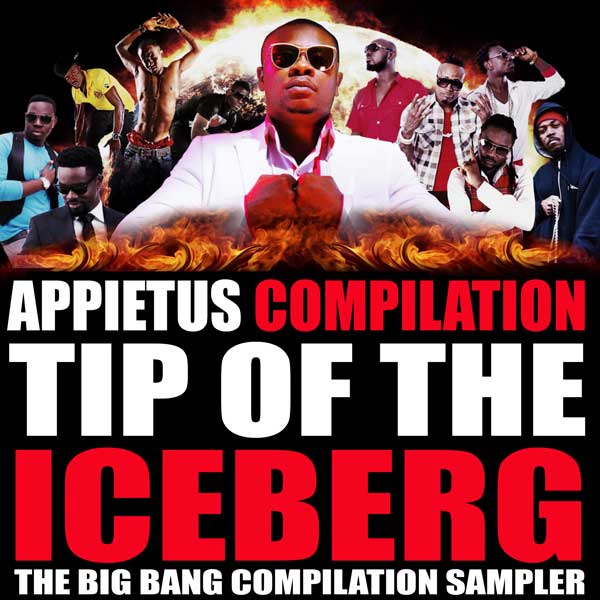 Appietus keeps busy. It's been well over a decade and he is still churning out the hits: the latest musical earthquake was Azonto Fiesta late last year. Since then Appietus has been a judge on Vodafone's Icons TV program, but this has not kept him from working his magic in the studio, as this sampler can assess.
Tip Of The Iceberg is just that, the tip of the iceberg. The iceberg being Appietus' upcoming Big Bang compilation, which is set to confirm Appietus as Ghana's most influential beatmaker.
Tip Of The Iceberg features 6 songs by Ghanaian musical titans. 5Five are Appietus' protégé, a hit making team responsible for Move Back (Muje Baya) , one of the songs which turned azonto into a craze. VIP personify hiplife. They have worked themselves up long ago, and have remained relevant for years. Samini is one of the most cherished and recognizable voices in Ghana today. He fuses dancehall and afropop into beautifully contagious jams. Stay Jay erupted with Shashee Wowo, an underground hit which forced itself well into the mainstream, also right as azonto exploded. Kwaw Kesse, the Fanti jokester MC, is one of the most loved and celebrated rappers in Ghana. 2ga are also an up and coming group under Appietus' wings. Here they collaborate with the number one artist in Ghana, twi lyrical wizard Sarkodie, to create one of the best highlife songs of recent years.
Past Posts about Appietus: